| | |
| --- | --- |
| | So you better run for cover when the pup grows up! |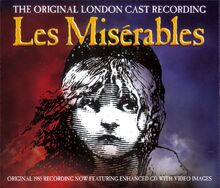 The Original London Cast recording was the first English language album of the musical. Recorded in 1985, when the show premiered, it is closest to the original French concept album. For example, "Stars" appears before "Look Down" and shortly after, the original version of "Little People" plays, which was later incorporated into the revealing of Javert. It also features a song entitled "I Saw Him Once", that was sung by Cosette, which was later incorporated into the first part of "In My Life".
Ad blocker interference detected!
Wikia is a free-to-use site that makes money from advertising. We have a modified experience for viewers using ad blockers

Wikia is not accessible if you've made further modifications. Remove the custom ad blocker rule(s) and the page will load as expected.