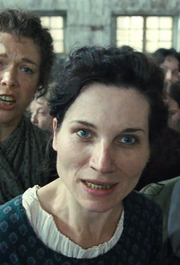 The Factory Girl
is a character in the musical adaptation of
Les Misérables
. She appears in the song
At the End of the Day
at the beginning of Act One along with several of the other working woman. In many stage adaptations her actress is also a member of the chorus and plays such characters as the "lovely ladies" and the turning women towards the end of the show.
Her character is never named; however, in the Shoujo Cosette anime, the Factory Girl is named Zephine.
In the 2012 movie, the Factory Girl is portrayed by Kate Fleetwood.
She is responsible for stealing Fantine's letter from the Thenardiers and reporting her to the Foreman, subsequently resulting in Fantine being sacked from the factory. She feels scornful towards her and accuses her of being a prostitute. Like Fantine, she works at Jean Valjean's factory in Montreuil-sur-Mer and in most productions, this is either a beads or a glass factory. Generally, she comes across as a mean-spirited person.
Ad blocker interference detected!
Wikia is a free-to-use site that makes money from advertising. We have a modified experience for viewers using ad blockers

Wikia is not accessible if you've made further modifications. Remove the custom ad blocker rule(s) and the page will load as expected.