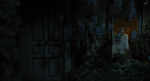 Rue Plumet is a location in Les Misérables. It is the residence of Jean Valjean and Cosette in Paris upon leaving the convent.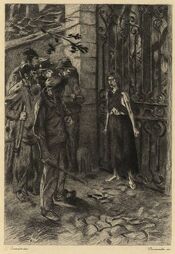 The house on Rue Plumet is an old, big house in which Valjean and Cosette lived with their housekeeper, Toussaint. This house was located in a deserted place, and was hidden by big, wild garden.
It was in the garden where Cosette had her secret meetings with Marius. In the musical, Marius climbs a fence to reach her, although it doesn't appear in the 2012 film. Valjean and Cosette fled to the house from Gorbeau House after finding out that Inspector Javert was still on their trail.
This was also the house Patron-Minette failed to rob. After this event, Valjean and Cosette, warned by Éponine's scream, leave the house and are planning to move to England.
In the book, the house number of Rue Plumet is #55; in some musical productions it is #5.
The word "Rue" in French simply means "a street".
Ad blocker interference detected!
Wikia is a free-to-use site that makes money from advertising. We have a modified experience for viewers using ad blockers

Wikia is not accessible if you've made further modifications. Remove the custom ad blocker rule(s) and the page will load as expected.