| | |
| --- | --- |
| | So you better run for cover when the pup grows up! |
Montparnasse

Biographical information

Gender

Male

Eye Color

Green

Hair color

Black

Born

1813

Relationships

Éponine Thénardier (possible lover)

Job

Head of the Patron-Minette (novel)
Henchman of Patron-Minette (musical)

Behind the scenes

Portrayer

Keith Burns
Lee Dillon-Stuart
Marc Pickering
Lucien Nat
Denis Lavant
Killian Donnelly
James Smoker
Anyd Coxon
Dayle Hodge
Rob Mallett
Montparnasse is one of the four heads of a crime organization called Patron-Minette.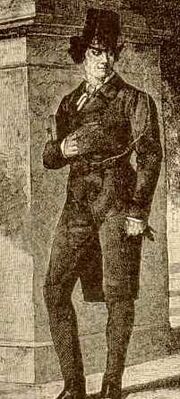 Montparnasse is a striking young dandy with a flair for murder. Indeed, between the gory nature of his crimes and his impressions on the ladies, Montparnasse seems to mirror the notorious Lacenaire. People don't feel sympathetic to this "career criminal", although he is to the unfortunate, but he does give glamour its due. On the one hand, Montparnasse is the sort of exciting figure that would titillate those repressed bourgeoisie. Although his faults, Montparnasse is very appealing and upholds much grace. On the other hand, Montparnasse could also be considered a hero or role model for those underclass members who aspired to a more indulgent lifestyle, or who resented the upper classes.
"Few prowlers were so much feared as Montparnasse. At eighteen, he had already left several corpses on his track. Frizzled, pomaded, with slender waist, hips like a woman, the bust of a Prussian officer, a buzz of admiration about him from the girls of the boulevard... such was this charmer of the sepulcher." (Hugo, 625-6)
Ad blocker interference detected!
Wikia is a free-to-use site that makes money from advertising. We have a modified experience for viewers using ad blockers

Wikia is not accessible if you've made further modifications. Remove the custom ad blocker rule(s) and the page will load as expected.