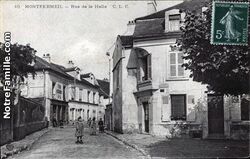 Montfermeil is a commune in the eastern suburbs of Paris, France. It is located 17.2 km (10.7 mi) from the center of Paris. Montfermeil is famous as the location of Thénardiers' inn in Les Misérables. It has made the headlines due to troubles in its social estate called "les Bosquets".
In Montfermeil Cosette spent most of her childhood; also in this town she saw her mother for the last time. Here also probably Éponine, Azelma, Gavroche and their brothers were born.
Ad blocker interference detected!
Wikia is a free-to-use site that makes money from advertising. We have a modified experience for viewers using ad blockers

Wikia is not accessible if you've made further modifications. Remove the custom ad blocker rule(s) and the page will load as expected.