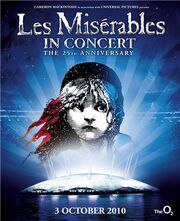 Les Misérables: the 25th Anniversary Concert was performed on October 3, 2010 at the O2 in London.  It celebrated the 25th anniversary of Les Misérables. The performance, including a choir of over two hundred, was sold out entirely and featured an encore of One Day More with the Original London Cast. It also had an encore of Do You Hear the People Sing? that included children from several school editions at the time. This performance also came with a DVD and a Blu-ray Disc recording available for purchase, but no audio CD was released. It was also unique for featuring a reprisal of Jenny Galloway as Madame Thenardier, who had played the same character in the 10th anniversary concert fifteen years prior, as well as a return of Lea Salonga, who had played Éponine in the 10th Anniversary Concert alongside Galloway and now played Fantine.
At the beginning of the credits, the show indicated that there would be an motion picture film coming out in the future, namely the 2012 film.
Images from the cast
Edit
General gallery
Edit
Ad blocker interference detected!
Wikia is a free-to-use site that makes money from advertising. We have a modified experience for viewers using ad blockers

Wikia is not accessible if you've made further modifications. Remove the custom ad blocker rule(s) and the page will load as expected.