Home
Talk

11
176pages on
this wiki
---
---
12,961 edits | 176 articles | 15 active users
Les Misérables is an 1862 French novel by author Victor Hugo that is widely considered one of the greatest novels of the nineteenth century.

This Wiki is all about the wonderful musical and book it is based on! Anyone can edit or create an article, so please feel free to do so and make this Wiki even better!
Spare a Moment or Two?
Bonjour, my lovely Mizzies. We've got some barricade planning to do.
As you know, one of the most popular celebrations in the world is just around the corner: Valentine's Day. It means love is in the air, and you can express tons of love in your own simple ways. You don't need to do something grand or big, a simple smile, greeting, or a card would do just fine. Our idea of spreading the love here in Les Misérables Wiki is something related to what our beloved french poet Victor Hugo does best: writing. It's a favorite pastime of many, and you can express so much things with words. So just like what we prepared last season, we're going to have a fanfiction writing contest. So get your list of ships ready, we've got some work to do.
Rules. Tons of them.
1. I cannot stress this enough, no foul language or sexual content. If you've noticed, some fics are kind of smutty, and it's not at all okay with us. And profanity has always kind of been an issue here in the wiki, so please follow.
2. Literary Genres. Of course, it should be appropriate for the theme: Pay it Forward. It's about doing simple acts of love to brighten anyone's day. You want a little romance or drama? Sure. Family love? Great. Expressing love to literally anyone, like what Valjean did? We'd love that.
3. If you're doing a romance fic, any ship is allowed. Enjoltaire's fine. Méponine's allowed. Enjosette and Enjonine's okay. Faljean's passed. Literally any Les Mis ship.
4. All entries will be posted on the forum entitled "Pay it Forward" in the New on Les Misérables Wiki forum board. Post it on the any of the admins' message wall and you will be ignored.
5. One-shot or multiple chapters? We'd prefer the one-shots, but either will do.
6. No hating, please. You're there to read or enter, not to lower other people's self-esteem.
7. No list fics.
8. No one or two-liners.
9. If you're thinking of posting a nonsense fic with absolute gibberish, don't waste your time. Just get out, or you'll earn yourself a ban.
10. Anyone is allowed to join. Yes, even the admins. But if you don't have an account, please put a byline with your pen name. You can use your real name, but only at your own risk.
11. Winners will be announced in the thread on the day the competition closes, which is February 28. We'll stop accepting on February 27. The winning works will be on fanfiction.net and on a special page in the wiki.
12. If you've read the rules, please put the full name of the man who raised Fantine's daughter at the bottom of your entry.
Good luck, my dears!
---

---
---

---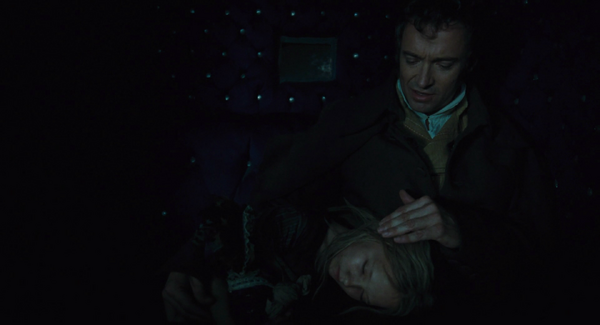 "Suddenly" is a song sung by Jean Valjean. It is only featured in the 2012 film. After rescuing Cosette from Monsieur and Madame Thénardier, Valjean sings about the sudden emotions he has for Cosette while they are riding towards the North Gate of Paris. The lyrics were written by Herbert Kretzmer. The song was nominated for Best Song in the 2013 Academy Awards. Read More...


---

---
---

---
Who has the best male voice in the musical?
Trivia
Bahorel is the only one from Les Amis who wasn't featured in the musical.
Gueulemer, one of Patron-Minette also was not featured in the musical/movie.
Victor Hugo's first attempts at the novel were going to be named "Miseres".
The Thénardiers were trying to steal silverware at Marius and Cosette's wedding.
Éponine was originally at 'Valjean's Death' because of Marius. Fantine was there for Valjean and Cosette.
The famous words encrypted on Valjean's blank grave were "Il dort. Quoique le sort fut pour lui bien étrange, Il vivait. Il mourut quand il n'eut plus son ange. La chose simplement d'elle-meme arriva, Comme la nuit se fait lorsque le jour s'en va." which translates to "He sleeps. Though fate was quite strange to him. He lived. He died when he no longer had his angel. The thing simply happened itself, as the night makes itself as the day departs."
---
---
To write a new article, just enter the title in the box below.
Not sure where to start?
Adding content