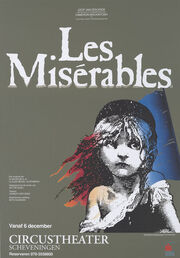 The Dutch version of the musical Les Misérables, based on the novel of the same name by French poet and playwright, Victor Hugo, premiered in the Netherlands in 1991. The musical was very successful and was one of the reasons why musical became popular in the Netherlands at the time. The musical ended in 1992, because the theater in which the musical played was hired by another production. If not, the production could've ran longer because of it's success.
In 2008, the revival of the musical premiered featuring several of the best known Dutch musical actors of the time. Like the 1991 version, the musical succesfully ran for a year and was known as the "musical der musicals".
The 2008 version of the musical won 5 John Kraaijkamp Musical Awards, including best musical.
| | Original Cast (1991) | Revival Cast (2008) |
| --- | --- | --- |
| Jean Valjean | Henk Poort | René van Kooten |
| Javert | Ernst Daniël Smid | Wim van den Driessche |
| Marius | Danny de Munk | Jamai Loman |
| Cosette | Joke de Kruijf | Suzan Seegers |
| Éponine | Vera Mann, Marika Lansen | Céline Purcell |
| Fantine | Pia Douwes, Betty Vermeulen | Nurlaila Karim |
| Enjolras | Bill van Dijk | Freek Bartels, Dieter Troubleyn |
| Thénardier | Paul de Leeuw, Door van Boeckel | Carlo Boszhard |
| Madame Thénardier | Simone Kleinsma | Marjolein Algera |
The following are songs featured in the 2008 Dutch version of the musical. Seth Gaaikema translated the English lyrics in 1991.
Note: some of the songs are missing due to not knowning the translations
Overture
Omlaag, omlaag (Work Song)
Wat deed ik, Heer? (What Have I Done?)
Aan het eind van de dag (At the End of the Day)

Mijn droom (I Dreamed a Dream)
Lekkere meiden (Lovely Ladies)
Fantines arrestatie (Fantine's Arrest)
Wie ben ik? (Who Am I?)
Kom bij mij (Fantines dood) (Come to Me (Fantine's Death))
Man tegen man (The Confrontation)
Mijn luchtkasteel (Castle on a Cloud)
Baas van het hele spul (Master of the House)
De Thénardierwals (The Bargain/The Thénardier Waltz of Treachery)
Omlaag (Look Down)
Ster (Stars)
Rood zwart (ABC Café/Red and Black)
Hoor je 't zingen op de straat? (Do You Hear the People Sing?)
In mijn hart (In My Life)
Mijn hart zingt voor jou (A Heart Full of Love)
Poging tot inbraak (The Attack on Rue Plumet)
Besides the version Dutch in the Netherlands, there was another Dutch version which premiered in Belgium in 1998. Although the version was also in Dutch, a new translation was used, based on the Flemish language.
Ad blocker interference detected!
Wikia is a free-to-use site that makes money from advertising. We have a modified experience for viewers using ad blockers

Wikia is not accessible if you've made further modifications. Remove the custom ad blocker rule(s) and the page will load as expected.