Won't you say? Will you tell?

Warning! Look down to view spoilers.
Jean Valjean

Biographical information

Also Known As

24601
Monsieur Madeleine
Monsieur Le Maire
Ultime Fauchelevent
Monsieur Leblanc
Urbain Fabre
9430

Gender

Male

Born

1769

Died

1833 (aged 64)

Cause of Death

Old age/Grief

Family

Jean Valjean (father)
Jeanne Mathieu (mother)
Unnamed (brother)
Jeanne (sister)
Unnamed (nieces and nephews)
Cosette (daughter; adopted)

Behind the scenes

Portrayer

Maurice Barrier
Colm Wilkinson
Alexander Gemignani
Michael Burgess
Robert Marien
John Owen-Jones
Alfie Boe
Ramin Karimloo
Liam Neeson
Gérard Depardieu
Hugh Jackman
Christian Markus Valencia
Daniel Koek
Peter Lockyer
Jonathan Williams
Waltur Bekk
Geronimo Rauch
Jean Valjean is the main protagonist of Les Misérables.
Jean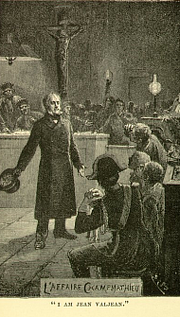 Valjean was born of a poor peasant family. His parents died when he was very young, leaving him with his older sister to fend for him. Unfortunately, his sister is widowed, having seven children to look after, the eldest being eight and the youngest being one year old. Valjean found work as a tree pruner in Faverolles, the same as his father, earning only a few sous a day. Winter passed. Valjean could not work, and so the family starved. He became a convict, imprisoned for breaking the window pane of Maubert Isabeau, the baker, to steal a loaf of bread to feed his sister's children. He was sent to prison for five years for "burglary at night in an inhabited house". He is paroled from prison 19 years later (after 4 unsuccessful escape attempts added 12 years and fighting back during the second escape attempt added 2 extra years).
He entered the galleys in Toulon in 1796 and left in 1815. He encounters the bishop Monsieur Myriel, the bishop of Digne who turns his life around by showing him mercy and encouraging him to become a changed man. While sitting and pondering on what Monsieur Myriel had said, he accidentally puts his foot on a forty-sous piece dropped by a young chimney-sweep named Petit Gervais. Valjean threatens him with his stick when he attempts to rouse Valjean from his reverie and retrieve his piece. He tells a passing priest his name, and the name of the young chimney-sweep, and this allows the police to charge him with armed robbery...a sentence that, if he were caught again, would return him to prison with a death-sentence.
Personality
Edit
Jean Valjean was an adventurous, brave and selfless man. This is shown frequently throughout the story: He attempts to steal a loaf of bread to save his nephew, he sent Fantine to hospital when it was evident she was dying, he went to save Cosette from the Thenadiers and hid them both from Javert at the heart of Paris, and he also did everything in his capability to keep Marius Pontmercy alive. He was highly intelligent and extremely perceptive: He could see past the Thenadiers' attempts to keep Cosette as a petty servant, and also was able to determine Javert's fear of mercy. Due to his fear of being made a slave again, Valjean suffered from extreme paranoia and desperation. His fear of going back to prison led him to be on the run for the rest of his life. It also made him fear for his own life and those around him, particularly Cosette. However, Valjean made up for this with his enormous capacity for courage, shown in his heroic efforts to rescue Marius from the soldiers when the latter was fatally injured.
Due to his twenty years spent as a slave, Valjean was extremely strong and agile. He could carry incredible weight, including fallen masts and carts, with borderline ease and uses his strength to fight off Javert in the hospital. He was also aware of his own strength, as he warns Javert of his physical power, despite hte latter refusing to cease attacking. He was a fairly skilled marksman, as he manages to escape the Revolution with his life. His strength also gave him an edge in unarmed combat.
List of Portrayers
Edit
External Links
Edit
2012 Film
Edit
1998 Film
Edit