Won't you say? Will you tell?

Warning! Look down to view spoilers.
Inspector Javert

Biographical information

Also Known As

Javert

Gender

Male

Born

1780

Died

1832

Cause of Death

Suicide

Job

Prison Guard (formerly)
Policeman (currently)
Police Inspector (currently)

Behind the scenes

Portrayer

Jacques Mercier
Jean Vallée
Roger Allam
Terrence Mann
Philip Quast
Norm Lewis
Thomas Goerz
Patrick Rocca
Hadley Fraser
Brian Stokes Mitchell
Earl Carpenter
Anthony Perkins
Geoffrey Rush
John Malkovich
Russell Crowe
Tam Mutu
Seaumus O'Seanaussey
Inspector Javert is the main antagonist from the novel Les Misérables by Victor Hugo. He is also, alongside Jean Valjean, the main character in the production.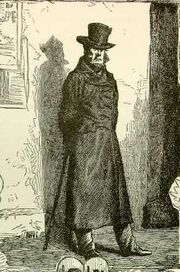 He was born in a prison, his mother was a fortune-teller and father was a convict serving on a galley. He first appears when Valjean becomes the mayor of
Montreuil-sur-Mer
under the alias of Monsieur Madeline. When Monsieur Madeline frees Old Fauchelevent from being crushed underneath a cart, Javert suspects that he is Jean Valjean, but the police do not believe him and cause him to believe that another man named Champmathieu is the real Jean Valjean. Javert arrests Monsieur Madeline when he reveals his true identity. Nine years later, Javert disguises himself as a troop of
The Friends of the ABC
and is subsequently incarcerated, but Valjean secretly frees him and pretends to fire at him. Later, Javert helps Valjean to take
Marius
, who is unconscious and wounded from the battle at the barricade and in love with
Cosette
, home to his grandfather, Monsieur Gillenormand. Valjean tells Javert that he may arrest him afterwards, but the inspector leaves. Due to his strong sense of duty, Javert still wants to arrest him, but also feels it would be wrong to do so after Jean Valjean saved his life. Unable to cope with letting Valjean get away and petrified with horror that Valjean saved his life, Javert commits suicide and jumps into the Seine from a bridge after writing something like a will, which he does not do in the 2012 film. In most adaptations, it is left ambigious whether he died on impact of if he drowned.
List of Portrayers
Edit
External Links
Edit
1998 Film
Edit
To see more photos,
click here.