Won't you say? Will you tell?

Warning! Look down to view spoilers.
Fantine

Biographical information

Gender

Female

Eye Color

Blue (novel)
Brown (2012 film)

Hair color

Blonde (novel)
Brunette (2012 film)

Born

1797

Died

December 1823 (aged 28)

Cause of Death

Tuberculosis/Shock/Pnemonia

Family

Cosette (daughter)

Relationships

Félix Tholomyès (lover)

Job

Factory worker (formerly)
Prostitute

Behind the scenes

Portrayer

Caissie Levy
Florelle
Rose Laurens
Patti LuPone
Randy Graff
Louise Pitre
Ruthie Henshall
Kerry Ellis
Lea Salonga
Judy Kuhn
Caroline Sheen
Sierra Boggess
Celinde Schoenmaker
Na-Young Jeon
Uma Thurman
Charlotte Gainsbourg
Anne Hathaway
Fantine is the tritagonist in the novel Les Misérables by Victor Hugo. She is a grisette (a young working-class French woman) who is the mother of Cosette.
Fantine is abandoned by her lover, Félix Tholomyès, when she is twenty. Subsequently, she unable is to take care of her daughter, Cosette. Fantine leaves her in the care of the Thénardiers, who are innkeepers in a village called Montfermeil. Unfortunately,
Madame Thénardier
spoils her own daughters,
Éponine
and
Azelma
, and abuses Cosette. Fantine finds work at
Monsieur Madeleine
's factory, and, being illiterate aside from being able to write her name, has other people write her letters to the Thénardiers. A female supervisor who discovers that she has an illigetimate child fires her. To meet repeated demands for money from the Thénardiers, she sells her hair, then her two front teeth, and is finally forced to become a prostitute. Over time, she becomes fatally ill with tuberculosis. Valjean learns of her situation when
Inspector Javert
arrests her for attacking a man who called her insulting names and threw snow down her back, and sends her to a hospital. As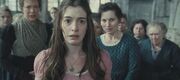 Javert confronts Valjean in her hospital room, because her illness has made her so weak, she dies of shock after Javert reveals that Valjean is really a prisoner and has not brought Cosette to her (after the doctor encouraged that incorrect belief that Valjean's recent absence was because he was bringing her daughter to her).
Polish form of her name is "Fantyna"
So Far, Laurie Beechman and Minako Honda (who was originally going to play Fantine in 2005) are the only musical portrayers of Fantine to pass away.
Her "Ghost" is present for the Finale
List of Portrayers
Edit
Rose Laurens – Original French Concept Album, Original Paris stage cast
Patti LuPone – Original London cast
Randy Graff – Original Broadway cast
Debra Bryne – Original Australian cast, Complete Symphonic Recording
Katarzyna Chałasińska, Anna Dauksza, Elżbieta Rakowska – 1989-2000, Musical Theatre in Gdynia
Hiromi Iwasaki, Yumiko Ishitomi – Original Japanese cast
Jackie Marks -1986-1987 West End Production
Natalie Kwak – 1987 Glasgow cast
Maureen Moore, Rebecca Storm - 1988 West End production
Susan Gilmour – 1988 1st USA tour
Elinore O' Connel – 1988 2nd USA Tour
Susan Dawn Carson – 1989 Broadway production
Christine Rothacker – 1989 Vienna-Austria tour
Sona MacDonald – 1989 Vienna tour
Anna Jun – 1989-91 Japanese tour
Laurie Beechman* - 1990 Broadway Cast
Erin Freel – 1990 Fredericton cast
Pia Douwes – 1991 Dutch Cast
Louise Pitre – Original Canadian cast, 1991 Paris revival
Ria Jones – 1992 Manchester Highlights
Ruthie Henshall – 1992-1993 West End Production, 1995: 10th Anniversary concert
Paige O'Hara – 1992 Broadway Cast
Claire Moore – 1993 West End production
Kim Jeung Sook (Yoon Bok Hui) - 1993 Korean Highlights
Melba Moore – 1993 Broadway
Lindsey Danvers – 1994 West End production
Debbie Gravitte- 1994 Broadway
Yuko Ema - 1994 Japanese Red Cast
Hiromi Itoh - Original Japanese Cast and 1994 Japanese Blue Cast
Jane Bodle, Lisa Caps – 1995 Broadway
Catherine Hickland – 1996 Broadway
Susie McMonagle – 1996 Broadway production
Grania Renihan - 1996-1997 West End Production
Silvie Paladino – 1997-1998 West End production
Rosa Jeddler – 1997 Florida cast
Donna Kane – 1997 Broadway
Honoka Suzuki – 1997-2001 Japanese Tour
Dianne Pilkington – 1998 West End production
Tristanne Lambrou – 1998 Dover tour
Cornelia Luna – 1998 Toronto, 2013 Toronto cast (u/s in 2013)

Coralie Legrand – 1998 Québec cast

Juliet Lambert – 1999 Broadway
Alice Ripley – 1998 Broadway production
Gunilla Blackman – 1998-1999 West End Production
Stephanie Tschöppe – 1999 Antwerp tour
Carmen Cusack – 1999 Dublin tour and  2002 san fransico tour and 2002, 2003 west end production
Rachel York – 2000 Broadway
Elena Roger – 2000 Argentina, Bueno Aires Spain Tour
Jacquelyn Piro Donovan – 2001 Broadway
Julie James – 2001 Malta Tour
Pia Aun – 2002 Commissioning Mexican scene
Lauren Kennedy – 2002 West End Production
Florence Lacey – 2002 Broadway production
Rumi Iryo - 2003 Japanese Violet Cast and 2003-2006 Japanese Tour
MARCIA - 2003 Japanese Light Blue Cast and 2003-2006 Japanese Tour
Yumiko Takahashi - 2003 Japanese Green and Orange Cast and 2003-2004 Japanese Tour
Jayne Paterson – 2003 Final Broadway cast
Joanna Ampil – 2003-2004, 2004-2005, 2007-2008 West End Production
Rebecca Thornhill – 2004 Copenhagen and Powderham Castle tour
Kerry Ellis – 2005-2006 West End Production
Sylvia Grab - 2005 - 2009 Japanese tour
Minako Honda* - 2005 Japanese Tour (Original - but due to her sudden death - her part had been given up)
Daphne Rubin-Vega, Lea Salonga and Judy Kuhn – 2006 Broadway revival
Nagisa Aki - 2007 Japanese tour
Sophia Ragavelas – 2006-2007 West End Production 
Eriko Imai, Naoko Yamazaki -2007-2009 Japanese tour
Nikki Renee Daniels - 2008 West End production
Genevieve Charest - 2009 Quebec tour
Natalie Day - 2010 West End production
Lea Salonga – 25th Anniversary Concert at O2
Allyson Brown – 2008-2009 West End Production
Nurlaila Karim -2008-2009 Dutch revival cast
Emma Giroux, Molly McIlwraith– 2008 Vancouver youth production
Jessica Chesbro - 2008 Witchita Tour
Melora Hardin - 2008 Hollywood Bowl
Rebecca Seale – 2009-2011 West End Production
Stephanie Lengyell – 2009 St. John's cast
Madalena Alberto – 2009-2010 25th Anniversary UK Tour
Betsy Morgan – 2010-2012 25th Anniversary US Tour
Virginia Carmona – 2010-2011 (Madrid). 2011-2012 (Barcelona).
Edyta Krzemień - 2010-2011 Roma Theater in Warsaw
Seiko Niizuma - 2011 Japanese tour
Simona Di Stefano - 2012 Bologna tour
Genevieve Leclerc – Current in 25th Anniversary US Tour
Amanda Jane Callaghan - 2012 West End production
Caroline Sheen – 2011-2012 West End Production
Sierra Boggess –  2012-2013 West End Production
Rina Chinen and Miou Kazune – 2011-2015 Japanese Tour and 2013 25th anniversary Japanese tour
Anna Sato - 2013 25th anniversary Japanese tour and 2015 Japanese Tour
Elena Medina – 25th anniversary Spain tour
Charlotte Maltby – St Louis Muny's Production
Celinde Schoenmaker – 2013, 2014-2015 West End Production (Current)
Na-Young Jeon  – 2013-2014 West End Production
Genevieve LeClerc  – 2013 Toronto cast
Cho Jung Eun – 2013 South Korean 25 Anniversary tour
Patrice Tipoki – 2013 Original Australian Production
Caissie Levy – 2014 Broadway production
Alaina Thomas – Lawrence Park CI's 2014 school edition
Mary Maurice – 1909 film
Maria Ventura – 1913 films
Gretchen Hartman – 1917 film (credited as Sonia Markova)
Sandra Milovanoff – 1925 film
Florelle – 1934 film
Florence Eldridge – 1935 film
Valentina Cortese – 1948 film
Sylvia Sidney – 1952 film
Danièle Delorme – 1958 film
Giulia Lazzarini – 1964 mini-series
Michele Dotrice – 1967 mini-series
Anne-Marie Coffinet – 1972 mini-series
Blanca Sánchez – 1973 series
Angela Pleasence – 1978 film
Évelyne Bouix – 1982 film/1985 mini-series
Uma Thurman – 1998 film
Charlotte Gainsbourg – 2000 mini-series
Emiko Hagiwara – Shōjo Cosette anime 2007
Anne Hathaway – 2012 film
External Links
Edit
2012 Movie
Edit
1998 Movie
Edit