Won't you say? Will you tell?

Warning! Look down to view spoilers.
Enjolras

Biographical information

Gender

Male

Eye Color

Blue

Hair color

Blonde

Born

1806

Died

June 6,1832 (aged 26)

Cause of Death

Executed by soldiers alongside Grantaire (novel and 2012 film)
Shot at the barricades (musical)

Job

The Chief of Les Amis de l'ABC

Behind the scenes

Portrayer

Kyle Scatliffe
Jason Forbach
Anton Zetterholm
Michael Colbourne
Michel Sardou
Christian Ratellin
Anthony Warlow
David Burt
Michael Maguire
Todd Waite
David Gagnon
David Thaxton
Aaron Lazar
Killian Donnelly
Ramin Karimloo
Daniel Diges
Lennie James
Steffen Wink
Aaron Tveit
Carlos Solano
Manu Pilas
Enjolras (pronounced: [ɑ̃ʒolʁas]) is a character in the novel Les Misérables by Victor Hugo. He is the leader of Les Amis de l'ABC.
Enjolras was born into a wealthy family in 1806.
He believes in democracy and freedom and is willing to do anything to achieve it. Hugo tells the reader that Enjolras is a very good-looking young man, who is capable of being terrible. He is sometimes fondly referred to as "Apollo" and has fair skin and blond curls. However, he has no interest in women.
After the death of General Lamarque, Enjolras and his followers stage a rebellion. The rebellion is very unsuccessful, as all but two people are killed (excluding the five insurgents Enjolras orders to leave out of necessity when it becomes clear that the barricade is doomed). He is a passionate leader and fighter that cares about the people of France; when he is forced to shoot a man, he not only regrets it but the shooting of Le Cabuc is symbolic of Enjolras' capability of being terrible, as well as the Amis' realisation that they're all going to die at the barricade.
Les Amis de l'ABC (The Friends of the ABC)Edit
Enjolras is the passionate leader of Les Amis de l'ABC, a group of students dedicated to making political changes in France. In the musical he is shown to have a closer bond with his fellow revolutionaries, including young Gavroche. Enjolras devoutly believes in democratic freedom, which leads him into an argument with the Bonapartist Marius Pontmercy. Enjolras strives to realize democracy and equality. He declares "Patria" or "Homeland" as his mistress and only has eyes for his causes. This makes him a foil of the character Grantaire, who is cynical and believes in nothing (besides Enjolras himself). Despite the differences in their characters, Grantaire looks up to Enjolras.
June 5, 1832
Edit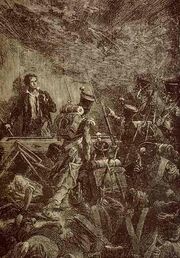 During the funeral of General Lamarque, a popular defender of the people, the monarchy dispatches troops to keep the peace. As shots are fired, Enjolras and the rest of the Friends of the ABC spring up and build a barricade outside of a wine shop in the rue Mondetour. They build the barricade out of common items, arm themselves and prepare for the coming fight. Gavroche points out that
Javert
, posing as a revolutionary, is actually a spy for the army. The men take Javert prisoner. After a revolutionary shoots an innocent bystander, Enjolras promptly executes him. It's mentioned that the executed revolutionary was not only
Claquesous
, one of the four heads of 
Patron-Minette
, but that he had been hired to stir up anarchy amongst the revolutionaries.
The students mourn the death of Mabeuf. Enjolras gives Mabeuf a kiss on the forehead, and later on the hand - and Victor Hugo states that those are the only two kisses Enjolras has bestowed in his entire life. After discussing the matter, the students decide to keep Javert as a hostage. Enjolras sends five men away from the barricade, realizing that those at the barricade will die. Valjean arrives at the barricade. Enjolras orders Javert's execution; Valjean leads Javert away, and sets him free instead. 
The barricades fall and as the army presses onwards, Enjolras retreats into the wine shop. He alone is left untouched by bullets and wounds, but with no other weapon in hand except for the barrel of his carbine. Enjolras himself told the National Guards to shoot him, throwing away the stump of his carbine, folded his arms and presented his breast.  Just before the guardsmen were about to shoot him, Grantaire, awakening from his drunken stupor, asks to be shot with Enjolras with the words:
"Vive la république! I belong to it." 
 Enjolras has a sudden realization that Grantaire would rather die next to him than live without Enjolras; he takes Grantaire's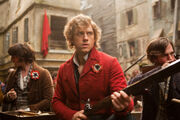 hand and they're shot smiling while holding hands. The soldiers execute both of them. Enjolras, pierced by eight bullets, remained backed against the wall, as if the balls nailed him there. He only bowed his head.
List of Portrayers
Edit
To see more photos, click here.