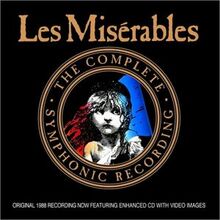 The Complete Symphonic Recording, recorded in 1988 and released in 1989, features the entire score. (The Czech Revival Recording is the only other album, in any language, to feature the entire score.) Cameron Mackintosh's original plan was to use the Australian cast, but the scope was expanded to create an international cast featuring performers from the major performances of the musical. The cast was recorded in three different places.
The album, produced by David Caddick and conducted by Martin Koch, won the Best Musical Cast Show Album Grammy Award in 1991.
Ad blocker interference detected!
Wikia is a free-to-use site that makes money from advertising. We have a modified experience for viewers using ad blockers

Wikia is not accessible if you've made further modifications. Remove the custom ad blocker rule(s) and the page will load as expected.