Celeste Auld is a child actress who played Little Cosette on the West End in 2009. At the time, Celeste was twelve years old, and was the elder of the  two actresses to take the part. While she is a mostly unknown child star, Celeste has taken on various roles on the West End and in regional theater. Now a teenager, she claims to plan on studying theater and drama in university.
She lives in the outskirts of London with her parents, grandmother, three sisters, and her dog, Jessie.
Unlike most actresses, Celeste has gotten to portray little Cosette twice. The first time was when she was ten, in a school production, just two years before she took on the role on the West End. She was spotted by a talent scout who contacted her and reccomend she go through auditions.
The photo to the right shows Celeste at age twelve. While this image is not featured in the programme it was current for her and was in fact her Year Seven school picture.
Personal Life
Edit
Celeste Auld was born in London to Camille and Adam Auld on May 14, 1997. She is the eldest of four daughters. Her sisters are Heather (born January 2000), Lucinda (born June 2003) and Daniella (born December 2007). She also has a Black Lab dog named Jessie, who she and her sisters received for Christmas 2009, the same year Celeste was with the cast.
In an interview Celeste and her child costar were asked what they liked to do outside of theater. Celeste answered that she liked to do cheerleading for her school sports teams, play games on her Wii, and watch anime. A huge anime fan, Celeste said that just a few of her favorite animes included Sailor Moon, Tokyo Mew Mew, and the simarily-styled cartoon Winx Club.
Other Roles
Edit
Les Mis (school edition, 2007) - Little Cosette
Matilda (regional production, 2011) - Tiffany
Doctor Who (fiftieth anniversary special, 2013) - Gallifreyan Child (uncredited)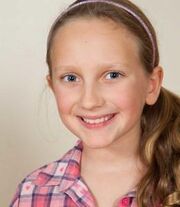 Ad blocker interference detected!
Wikia is a free-to-use site that makes money from advertising. We have a modified experience for viewers using ad blockers

Wikia is not accessible if you've made further modifications. Remove the custom ad blocker rule(s) and the page will load as expected.